Wheel loader merek SEM655D Cat dengan harga bagus
Aplikasi Mesin
Desain kokoh dari SEM 655D menjadikannya mesin yang sempurna untuk penanganan kargo pelabuhan, yard mineral, pabrik baja dan aplikasi permintaan tinggi lainnya.
Dalam aplikasi Quarry and Aggregate and Coal Mining, 655D dapat memuat lebih banyak, bergerak lebih cepat dan membakar lebih sedikit bahan bakar
Banyak alat kerja tersedia untuk meningkatkan keserbagunaan. Seperti Pipe Gripper, Marble Fork, Side Dump Bucket dan sebagainya.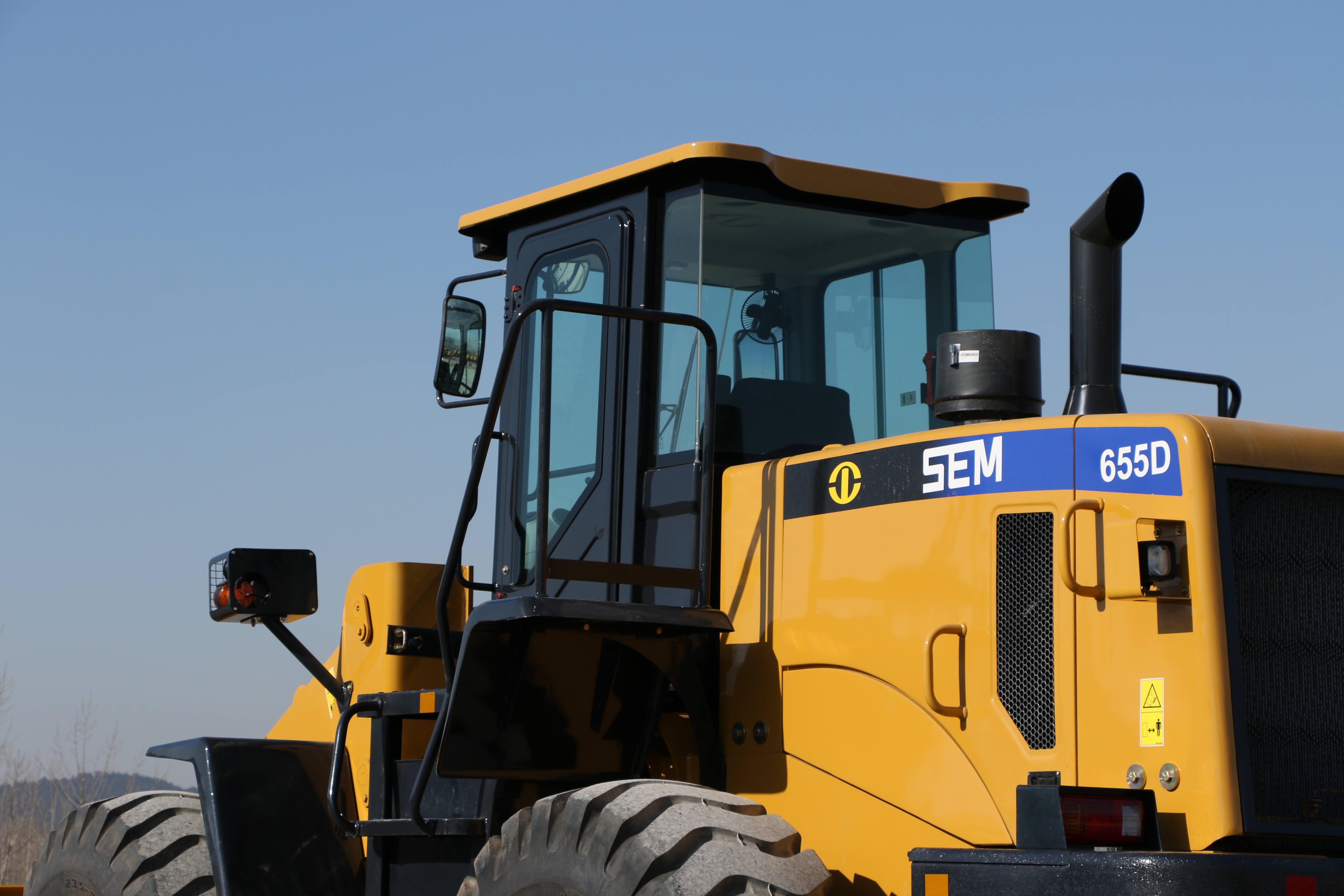 Keuntungan
* Produktivitas Tinggi
* Keandalan dan Durabilitas terbaik di kelasnya
* Ekonomi Bahan Bakar Sangat Baik
* Kenyamanan Operator Luar Biasa
Main Specifications
Rated Load
5000 kg
Operating Weight with Standard Bucket
16500 kg
Bucket Capacity
2.7-4.5 m

³

Wheel Base
3300 mm
Overall Dimension (mm)
8085*2963*3463
Engine
Model
Weichai WP10G220E343
Rated Power
162 kW
Rated Speed
2000 r/min
Displacement
9.7 L
Operating Specifications
Breakout Force
177 kN
Dump Clearance
3102 mm
Articulated Angle
38±1 °
Implement Hydraulic
Implement System Type
Single load sensing flow sharing system
Boom Raise Time
5.13 s
Hydraulic Cycle Time
9.3 s
System Presure Setting
18 Mpa
Transmission
Type
Countershaft, power shaft


Transmission Gears
F4/R4
Torque Converter Type
Sigle stage 3 elements
Maker & Type
TR200
Forward I/ Reverse I
7.8/7.8 km/h
Forward II/ Reverse II
15/15 km/h
Forward III/ Reverse III
22/22 km/h
Forward IV/ Reverse IV
39/39 km/h
Brake System
Service Brake
Dry & caliper, air to oil control
Parking Brake
Drum type shoe brake, spring
applied & oil released
Steering System
System Type
Flow amplifying
Steering Pump Type
Piston pump
System Presure Setting
16 Mpa
Steering Angle (L/R)
38±1 °
Axle
SO32
Main Drive Type
Spiral bevel gear, single stage
Final Drive Reduction Type
Planetary type, singe stage
Rear - Oscillating +/-
±11 °
Tires
Size
23.5-25
Type
Bias
Layer
16
Textured Type
L3/E3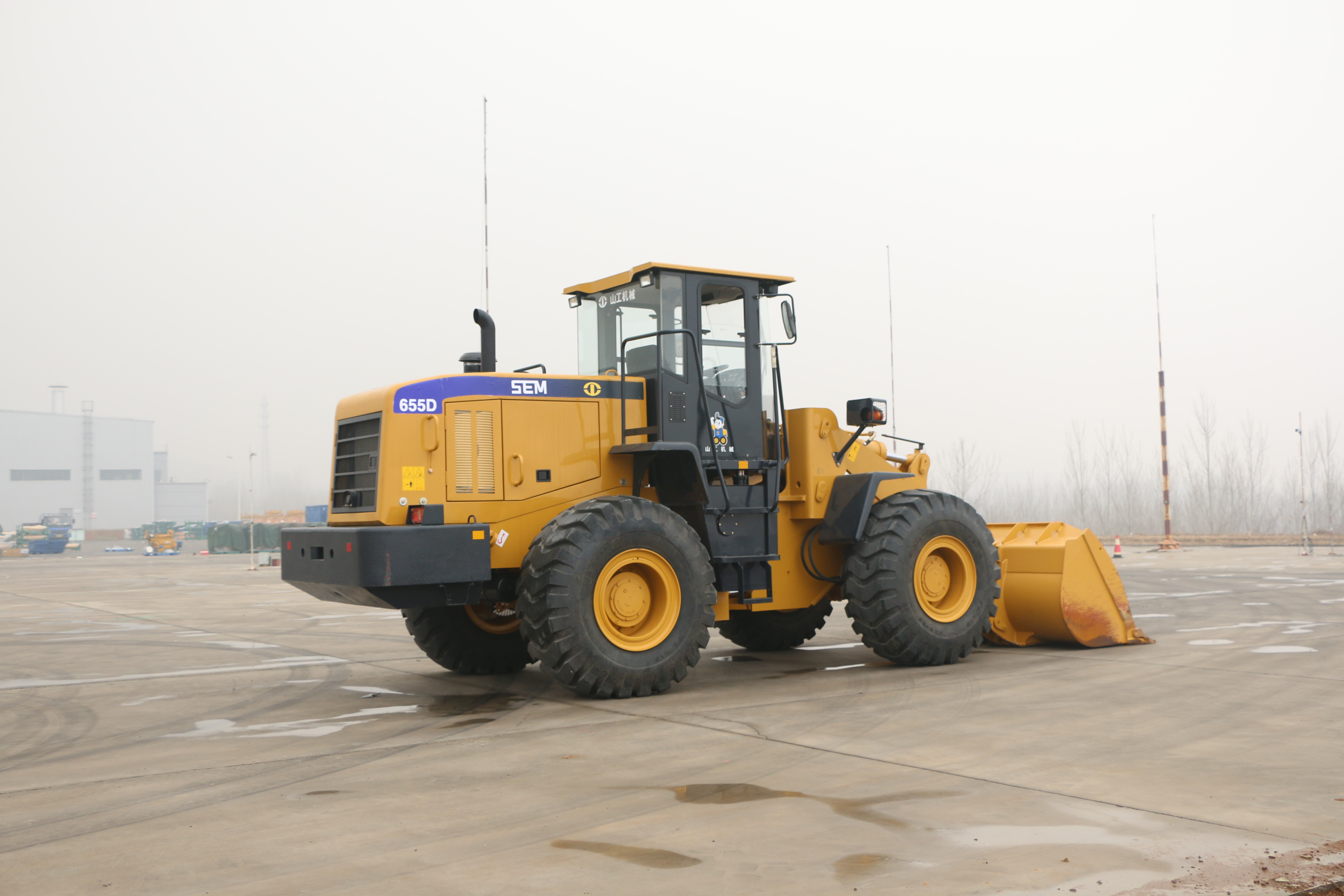 Kategori Produk : Wheel Loader > 5 Ton Wheel Loader